- Thu Aug 25, 2011 10:33 am
#751599
Hi guys...man it has been a while...
A few years ago, I started thinking about building my version of the perfect track car.
I had decided that the engine of choice would be a high-revving normally aspirated 20v. Because I was planning to use a small displacement N/A engine, the car had to be lightweight, around the 1-ton mark. My original intent was to put this engine into my AE92 Corolla. But I soon wised-up to the fact the the ideal layout for a track car is an MR configuration, and not a FF or FR or even a RR configuration.
Another thing I considered was the vehicles parts availability, both OEM and aftermarket.
So it was sometime earlier this year, that the hunt for an original condition MR2 Hardtop began...
My colour of choice was red, and needless to say, finding a Red MR2 with a Hardtop is not the fastest process. But my patience was to be well rewarded.
After searching for what seemed like eternity, I finally found a Spyder that was still in excellent condition overall and 99% original - the only part of the car that was not original was the tail piece.
I took delivery of her a little under 2 months ago, on the 1st of July.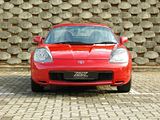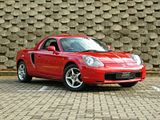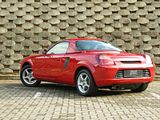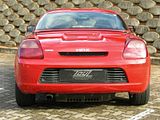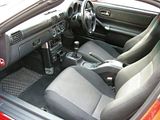 Since then, I've had the miserable OEM HU replaced with a 1DIN Clarion DXZ785USB, and the speakers upgraded to JL Audio TR 650CSi splits.
The next thing that I plan to do - hopefully this weekend - is remove the precats, strictly as a preventative measure.
I doubt I'll go any further than that for now with any engine mods...for two reasons: I am still learning the car's characteristics, and I'm waiting to bring in the last few parts for the 20v build - the rods, gasket, and valves
Some of the parts being used for the 20v Engine build:
- TODA Camshafts, Cam gears, Valve Springs, Cambelt
- Supertech Valves, Titanium Retainers
- ARP Main studs, Custom Head studs, Flywheel bolts
- Wiseco custom spec High-comp pistons
- Carrillo custom spec conrods
So far as I know, there is no other Mk3 MR2 that has done a 4A-GE swap...16v or 20v!
Most people would rather go the 2ZZ route, but to be quite honest, I'm not a fan of the ZZ series engines, and I believe the 20v has more potential in this chassis.
As for the engine weight difference between the ZZ and the 20v, well my cast iron 20v engine will actually weigh almost the same if not less than the aluminium ZZ engines.
More pics to follow...
Comments and criticism welcome
Pics added (22/09/2011)
The TODA head setup: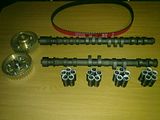 The stamp of approval...
The ARP Goodies - Main studs, Flywheel bolts, and custom head studs: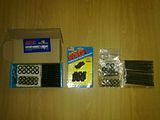 Custom Wiseco pistons...with enough clearance for just about any valve situation: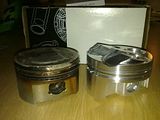 I am not designed to come second or third. I am designed to win.
Ayrton Senna






For all your car's fetishes: FASTOY.CO.ZA



'01 MR2 Hardtop - Toda 20v Track Project
'01 Corolla RXi - Factory Stock



JOIN THE TTCC SKIDPAN @ ZWARTKOPS - CLICK HERE